How to Check Your Ring Size?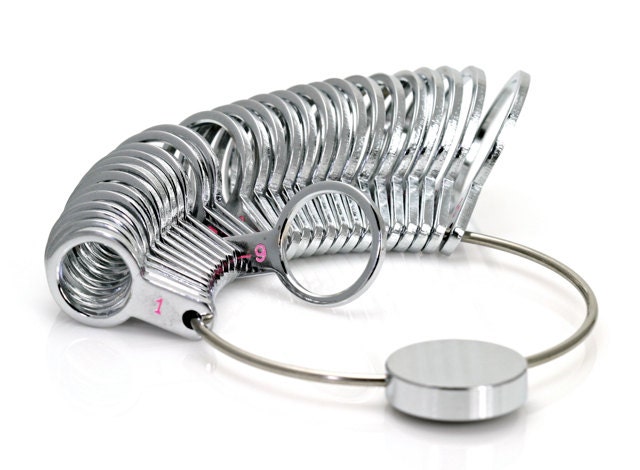 True Perfect Fit
For the perfect fit, we usually suggest the ring to go on past the knuckle with ease and to come off past the knuckle with a bit of struggle. When we say struggle, we mean that the only struggling part is to be right where the knuckle is (tightest); at the bottom phalange, the ring should fit comfortably. When taking off the sizer, relax the finger and slowly wiggle the band in a up and down motion until the ring is removed. To determine your true perfect fit ring size, avoid drinking alcohol the night before or eating foods that are high in sodium, or checking your ring size right after working out--all of which will cause your fingers to swell more than usual.
How to Tell if Ring Size is Too Small
When the ring is past the knuckle and it doesn't glide into the bottom phalange with ease that could mean the ring size is too small. Another clear indicator is if the ring makes your finger turn purple or red and you have a hard time closing your hand comfortably with the ring on. Should the ring get stuck, avoid panicking or pulling hard. Instead, submerge your hand for 10 to 20 seconds in ice-cold water. Then remove your hand from the water and attempt to wiggle the ring in an up and down motion to get the ring off. You can also apply lotion around that area and do the same motion of wiggling up and down until you can pull the ring off.
How to Tell if Ring Size is Too Big
An obvious way is to dangle your arms and hands with your fingers pointing toward the floor. If the ring slides right off, the ring is too big. Another indicator is if you have the ring on and it swivels 360 degrees easily when you move your hand; this applies for those who don't have an overly large knuckle. Lastly, the ring size is likely too large if you can pull the ring on and off without any tension at all.
For ALL Thin Style Engagement Rings
(under 2mm width): Please order your ring 1/4 smaller than true size. A thin-style ring will "feel" bigger even though it measures accurately. If you plan on stacking more than two rings together, we suggest ordering true size. For example, if you are only wearing an engagement ring and matching band, order 1/4 smaller than true size. If you plan on stacking three or more rings, order in true size.
How to Check for the Right Size for Stacking Rings
Order true ring size if each band is 2mm or thinner. Order 1/2 size larger for bands wider than 2mm AND if you plan on stacking at least three rings together. The reason for ordering the larger sizes is because the wider the rings stack, the more you need space for flexibility in the finger.
How to Check for Right Size for Wider Bands

If your desired ring is wider than 7mm, and the ring sizer you tried on is 6mm or under in width, order about 1/4 size larger. If your desired ring is wider than 9mm, order about 1/2 size larger than true size. This will allow enough space to bend the finger. This rule also applies for men's rings. If 1/4 size up is not an option, we suggest 1/2 size (for men).
Where to Check My Ring Size
We offer an inexpensive travel sizer for $2.50; click here to purchase. When used properly, the ring sizer is accurate to true American size. Our ring sizer can be re-used in the future for other rings as well. If you'd like a more accurate measurement, please visit our shop or any local jeweler.
The Ultimate Ring Buyer's Guide
Download this free e-book to learn everything you need to know about evaluating and buying the perfect diamond.